Randall knives are expensive because of their exceptional quality, expert craftsmanship, and unique history. 
When you decide that you want a Randall knife for yourself, you visit the manufacturer's site and start browsing. But, the catalog's prices instantly discourage you. 
How could you possibly justify paying so much for one knife? 
Checking with resellers doesn't help — no matter where you look, authentic Randall knives come at a high cost. 
But why are Randall knives so expensive? Well, like with most things in life, you get what you pay for. The exceptional quality of these tools makes them well worth the price. 
After reading this guide, you'll walk away with a better understanding of why users are willing to spend big bucks on these tools. 
So, What Makes Randall Knives So Good?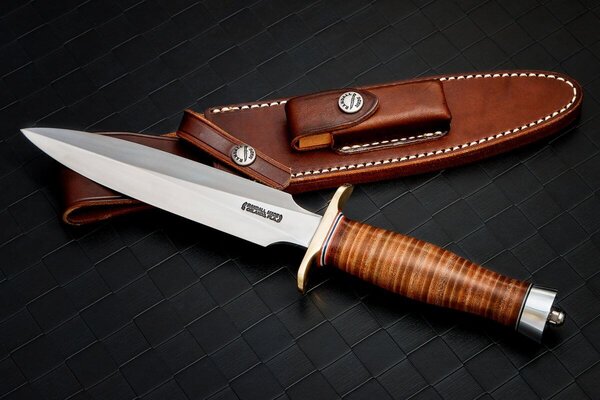 These tools are of exceptional quality because of their manufacturing process. When you place your order through the site, an expert bladesmith begins the production. They use the finest imported .01 tool steel and complete the entire process by hand, including: 
Forging
Grinding
Honing
Polishing
The result? A fine tool that is remarkably sharp, sturdy, balanced, and beautiful. It will also have the ideal shape for its intended use and last for years to come.  You don't have to spend a lot of time sharpening its edges because it'll retain its good edge for a long time. The leather sheath that's included to carry the unit is also of top-notch quality. Plus, it's engineered in such a way that the point of the blade doesn't poke holes in this protective covering.
Throughout its 80+ years in business, the company has perfected its crafting techniques. While there are over 45 models available, the final products are entirely unique due to the by-hand manufacturing process. You'll get exactly what you expect from a hand-crafted premium knife.
What Makes Randall Knives So Expensive? 5 Reasons
Here are the top 5 reasons that explain the high Randall Made knives price list:
Reason 1: They Are Collectible Items
Knife enthusiasts everywhere want to add a Randall to their collection. They appreciate that the following trademarks of the brand:
They have a unique history
They come with expert craftsmanship
They are effective at what they do
Collectors also love that there are many different types of knives to choose from. You get a wide selection of catalog and non-catalog models, coupled with the fact that each tool is handmade. 
Customizations give each tool a personal touch that's worth keeping in a collection forever. When you add a Randall to your collection, you know that there is nothing else like it in the world. 
Reason 2: The Knives Have a Long History
The company's long history also explains the high price tags. In 1938, founder Bo Randall came across the first handmade knife he'd ever seen. The knife, made by custom knives' expert Bill Scagel, inspired Bo to study knife craftsmanship and launch his own company 2 years later. If you didn't know, the renowned production knives expert, Webster Marble was also from that era.
In the beginning, Randall Made Knives created tools primarily for soldiers. Users praised their effectiveness for combat and survival purposes. As years passed, the company soared in popularity and became one of the most desirable brands out there. Everyone from astronauts and statesmen to celebrities and nobles ordered these tools. 
Throughout Randall knife history, the company never compromised quality. It committed itself to make all products entirely by hand rather than relying on mass production. 
To this day, the founder's family continues to improve its work by drawing on 80+ years of experience. They set their prices high because they want to be compensated for their expertise. 
Reason 3: Top-Notch Quality
Their knife quality is unmatched. As we mentioned earlier, every blade consists of the best stainless steel available. They can endure a wide range of applications, including: 
Military use
Hunting
Fishing
Diving
Note that the handle is just as high-quality as the blade. They are comfortable to hold and make it easy for you to work with care. Handles may consist of various premium materials, including:
Stag
Heavy sole weather
Rare wood
You'll also appreciate the well-made sheath that comes with every purchase. The material is protective and will ensure your tool lasts as long as it should. 
Reason 4: They're Quite Stylish
We know that looks aren't everything, but the appearance of these tools is worth appreciating. The beautiful construction of blades steel is something that can only come from a handmade manufacturing process. 
When you use your tool, most people around you are bound to comment on its looks and ask you where you purchased it from. It's a great way to strike up conversations with fellow enthusiasts. 
Even when you're not using it, your Randall will make a statement. We can almost guarantee that it will be the standout in your collection based on appearance alone.
We might sound a little vain by hyping up the style of a Randall. But once you see one in person, you'll understand. 
Reason 5: The Knives Are Hand-Forged
Many people ask, "Are Randall knives hand-forged?" This question is reasonable, seeing as it can be hard to believe that the company makes EVERY product by hand. 
Well, it's true. Unlike other suppliers, the company has never used mass production. The company makes every knife by hand because it cares more about quality rather than quantity. 
The hand-forged process is a big part of why the products fall into the category of expensive knives. Randall must pay experts who have spent years perfecting their craft. The specialized process isn't something everyone can do, and the cost carries over to the final product.
Read Also: Why Are Cutco Knives So Expensive?
FAQ (Frequently Asked Questions)
Where Are Randall Knives Made?
Randall makes all of its knives in its shop in Orlando, Florida. The shop is located on South Orange Blossom Trail. 
How Long Does It Take to Get a Randall Knife? 
Because demand is so high and each product is made by hand, it can take a long time to get your Randall knife, even if you're ready to pay the money in advance. The manufacturer has wait times of 5+ years. If you order from a reseller, you may be able to get it in around 6-7 months.
Oh! If you change your mind about the knife and would like to make some changes, then you will have to make that request long before (minimum 1 year) the scheduled ship date.
Where to Buy Randall Knives? 
You can buy these tools directly from the Randall site. You may also order from a reseller for shorter wait times, like Smoky Mountain Knife Works, but they're likely to sell it at a higher price. Always ensure that the dealer you order from is reputable and sells authentic knives. Otherwise, you may get a cheap knock-off model as there are tens of thousands of fraudsters in the market.
Are Randall Made Knives Worth It? 
Randall Made knives are worth the cost as experts make each one by hand, ensuring their quality and longevity. A typical kitchen knife or any other knife can't be compared in any shape or form with these state-of-the-art pieces. As a hunter, you'll cherish these knives forever.
Are Randall Knives Full Tang? 
Some full tang models are available. 
Is Collecting Randall Made Knives a Good Investment?
As long as you take good care of your knife, a Randall is a good investment. It is enjoyable to use and comes with a high resale value. So, if you ever want to give yours up, you can rest knowing that the tools are in high demand. 
What Steel Is Used in Randall Knives?
Randall knives use the finest imported .01 tool steel or premium stainless steel. 
How Are Randall Knives Made? 
Randall's team of experts makes all knives by hand. Click here to see a detailed explanation of the construction process. 
How Good Are Randall Knives? 
Randall makes some of the best knives available. They're of exceptional quality and come with the company's certification and guarantee of quality. 
Conclusion
As you can tell from this guide, the knives aren't expensive for no reason. The exceptional quality and superior craftsmanship more than justify the cost. Whether you order directly from Randall or through a reputable reseller, you'll get a collector's item that also works well.
Do you still have questions about Randall knives and why they're so expensive? Leave us a comment below. We're eager to keep the conversation going and provide more advice about these quality knives.