You can be a good chef or cook, but if you don't equip your kitchen with the best knives, you are no better than anybody else in the kitchen. I love cool knives in my kitchen. People who know me say I'm too choosy when it comes to my kitchen equipment, but that's the point.
When everything around you in the kitchen is of the desired quality, cooking becomes fun and food eventually tastes better. That is why I like the Wolfgang Puck 10 Piece Nonstick Cutlery Set. This can be the best thing to ever happen to your modern kitchen
It is a set of innovatively designed knives with several cutting options and abilities. Once you can know the different types of knives you require to make each cooking moment a memorable one; you will know why many chefs cherish this model.
Read more to find out what makes it tick.
Stylish, Nonstick Cutlery
These knives are made of high-carbon stainless steel blades with colorful nonstick coating. The nonstick coated blades are good for your kitchen since they prevent food from sticking on them. That makes them very easy to clean.
Sometimes when I want to do some serious butchering task I use these knives because I know it won't require me to clean them up in between cooking. The nonstick coating also resists corrosion so that when you buy them, you are sure of a knife that will stay with you for longer.
Colorful Handles and Design
Nothing brings more style to your kitchen more than a classy looking kitchen equipment. Whoever designed these knives ensured that they give users a reason to love every bit of them. Each knife in the set has a unique design and color so that you find it easy to identify them.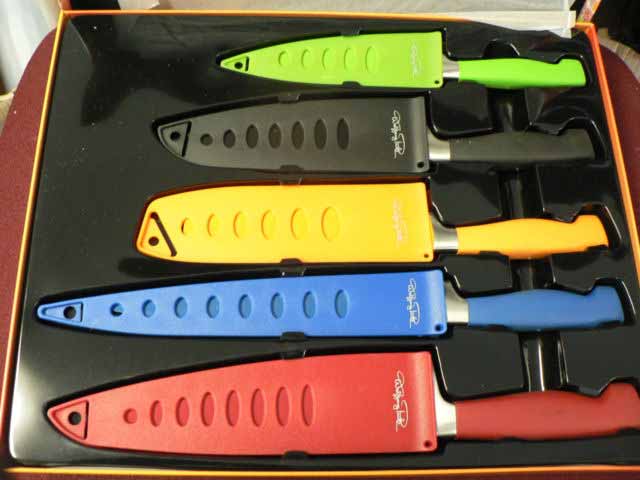 Each knife has purpose that it best serves in the kitchen, and that's what makes them unique. Though they are made from the same quality materials, these knives can be used for the different cutting purpose to keep your cutlery collection complete.
Comfortable Handles
They have some of the best handles a knife can have in this advanced generation. The Wolfgang Puck, 10 Piece Nonstick Cutlery Set, consist thermoplastic rubberized handles. That explains why they perfectly stay in the hands when cutting food.
They bear the same color as the sheath and provide maximum grip to the user. The handles are comfortable and easy-to-grip so that they don't slip from your hands in whatever circumstance.
Sheaths
They come with quality sheaths that bear the same color to each knife they cover. The sheaths are as elegant as the knives themselves. They provide safe and convenient storage for the knives. They also ensure you are safe while using the knives. Each of the knives in the Wolfgang Puck 10 Piece Nonstick Cutlery Set perfectly fits into its sheath and comes out with the same easy, so that you don't struggle a bit.
Cuts Variety of Foods
With all these knives, you can cut every food with the desired precision as long as you know how to pick the right knife for the right job. It is very easy to locate the knife you want for each cutting job even if they are in a cluttered drawer. Each knife has a unique cutting ability that sets it apart from the other knives in the set.
Features I Liked Most
Different elegant color for each knife
Made from high-quality materials
Different knives provide options
(FAQ)
Q: What is the material that is used to make wolfgang puck knives?
They are made of high carbon steel.
Final Verdict
After you have made the right choice, get down to your kitchen and make miracles happen. With the right tools, you can cook the best meal. I'm sure any modern kitchen will become better with the Wolfgang Puck 10 Piece Nonstick Cutlery Set