Today, Queen makes Moore Maker's high-end line of blades. Some of these are made with Delrin handles, but most handles consist of natural materials like horn, stag, and bone.
Bear and Utica make Moore Maker's less expensive products, but they are still of excellent quality. These companies manufacture their products to feature both Delrin and bone handles.
While Queen, Bear, and Utica are the leading Moore Maker knives manufacturer today, they weren't the original ones. We'll dive into the contemporary ones later.
Where Are Moore Maker Knives Made?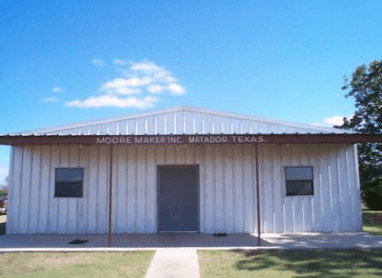 The company manufactures all its products in the U.S. It subcontracts work out to American companies in multiple states.
Even though the brand distributes the work to different businesses, it owns all materials and patents and most of the dies and jigs in its products.
Learning the History of Moore Maker Knives
Moore Maker knives history is quite fascinating. It all started in 1985 when Wayland and Glynard Moore founded the company. They established the brand's roots in Matador, Texas, a small town located in the southern part of the Texas panhandle.
The founders believed this quaint town was the perfect spot for their business. Matador had an agriculture-based economy with cotton farming and cattle ranching as the two dominating industries, so there was a high demand for outdoorsman products.
The Moores started their journey by making buckles, spurs, and bits in their family garage. They soon move onto dehorners and bullnose fencing pliers. Eventually, they began to manufacture saddle pliers, knives, and other ranching and fencing tools.
Camillus used to manufacture old Moore Maker blades with black buffalo horns and yellow Delrin handles. Production has since stopped, but Moore Maker may still have a few for sale. Canal Street is another company that manufactured some products for a while. Boker (located in Solingen, Germany) was the only foreign company that ever made products for Moore Maker.
The brand quickly gained popularity and supplied its products to many famous figures, including former Governor Rick Perry, former U.S. president George W. Bush, George Strait, and Charlie Daniels.
Fast-forward to 2021, and Moore Maker is a trusted knife and ranching tools manufacturer across the U.S. It relies on Queen, Bear, and Utica to make its products.
Are Moore Maker Knives Any Good?
Yes. MM won't sell any second-rate or low-quality products.
It enlists some of the world's greatest ranches to test its products before they ever go up for sale to the public.
Some of these ranches include the 6666, Pitchfork, King, and Waggoner ranches. The men and women of these ranches use MM's knives and tools in real-world scenarios. If they discover any deficiencies in MM's products, they'll send them back for reworking. MM won't rest until it redesigns its products up to quality standards.
MM designs all its products with the needs of working cowboys in mind, so you can rest assured that you'll be investing in an authentic brand that strives to meet its customers' needs.
Moore Maker knives are mostly known for the quality of their pocket knives. However, the company also has a history of making boning knives, meat cutting knives, and more in unique and vintage styles. And a lot of people are working hard behind the scenes to make these products as great as possible.
Are Moore Maker Knives Made in Texas?
Various American companies make MM knives across multiple U.S. states. MM no longer contracts work out to foreign companies.
However, it doesn't build knives in its city of origin (Matador, Texas). The brand only builds some fencing tools and dehorners in Matador.
What Are The Key Features of Moore Maker knives?
Moore Maker knives have vintage styles with high carbon steel blades.
Moore Maker vs. Case
MM and Case are competing brands, and both have gained their respective followings.
See how the brands compare in terms of the following factors:
Size: MM and Case have similar blade (around 3 inches) and closed (around 4 inches) lengths for some products. However, Case's products are more consistent in their lengths, while MM has products of varying sizes.
Steel: MM blades feature 1095 steel, while Case products feature stainless steel.
Finish: Both brands sell products with mirror polish finishes to prolong their lifespans and protect them from the elements.
Style: MM knives have a more rustic, vintage style, while Case products have a more contemporary style.
Verdict
There's no doubt when it comes to the quality of Moore Maker knives. The company's long history has created the reputable brand it is today and led to profitable collaborations with Queen, Bear, and Utica. Overall, these pocket knives are some of the best you'll find and make great additions to any outdoorsman's collection.