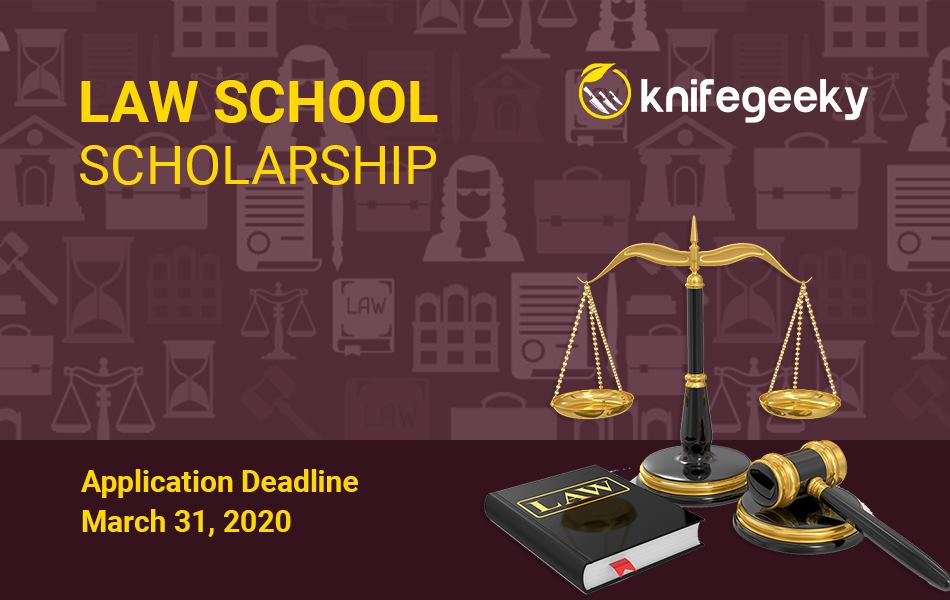 Application Deadline:
March 31, 2020
Winner Announcement:
On or before April 30, 2020
A $1000 scholarship is being offered to students who are able to effectively demonstrate a talent in writing about knife laws in their home state.
Article topic:
Knife laws in your state. (To get an idea about potential articles please send us an email at scholarship@knifegeeky.com to receive sample resources.)
The writer of the most compelling article, as judged by the admin panel of knifegeeky.com, will receive a $1,000 scholarship.
Who Can Apply:
The applicant must have a 3.0 GPA or higher.
Any current undergraduate or law student (U.S. residents or permanent residents only) accepted into a JD, LLB, or LLM program is eligible for the knifegeeky Scholarship.
How to Apply:
Articles should be submitted in .doc or .pdf form to scholarship@knifegeeky.com
Additional Information:
Articles must be received by March 31, 2020. The winner of the scholarship will be announced on or before April 30, 2020.
There is no word limit for article submissions.
By submitting an article, you are giving your full consent to have the article published, used, or altered for commercial or noncommercial purposes. Authors lose any rights over their articles upon submission.
Your article must be free of plagiarism.
Writers are encouraged to carefully research the topic of their article so they can convey factual and interesting information that will be informative for all readers. Knifegeeky looks forward to reading all of the submissions and making the choice on which entry will be declared the winner of the contest.
Authors should carefully proofread and correct any grammar errors in their articles before submission, as any errors could prevent an essay from being chosen as the winner. Essays will be judged according to English language grammar rules, the use of varied and colorful vocabulary, and the writer's mastery of the subject matter.
Financial Award:
Before receiving the award, the recipient will be required to demonstrate enrollment at an accredited law school in the U.S.
A check for $1,000 will be made to the scholarship recipient's law school of choice to cover expenses.
The recipient is expected to submit receipts in accordance with IRS regulations.
How and when will I be notified if I am awarded a scholarship?
A representative of the blog will contact the scholarship winner by mail, on or before April 30, 2020. We will also announce the winner on social media (Facebook, Youtube, Twitter). Applicants should not make follow-up inquiries about the status of their applications.